Today's vehicles come with a broad portfolio of suspension control systems that make driving more comfortable, more relaxing and safer. They adapt the car's characteristics regarding driving comfort and driving dynamics to the situation or to the driver's wishes and stabilize the vehicle in critical driving situations. In addition, these suspension control systems are important enablers for driver assistance systems and are a necessary prerequisite for the realization of highly automated driving functions.
The progressing networking of the individual functionalities, e.g. through the implementation on a common multifunctional control unit, but also the dynamic interaction of individual systems require a holistic view of the safety functions.
The goal of this project is to develop a set of generic security architectures and security modules for networked suspension functions that can reduce the cost of developing and securing new features.
The derivation of the specific parameterization and the actual safety modules should be done without expensive driving tests. The generic modular system can thus provide an early basis for a simulation-based proof of functional safety in the networked overall system.
Bearbeiter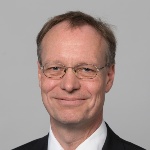 Oliver Sawodny
Prof. Dr.-Ing. Dr. h.c.
Head of the Institute